Soaring Expansion of Clean Energy Employment Nationwide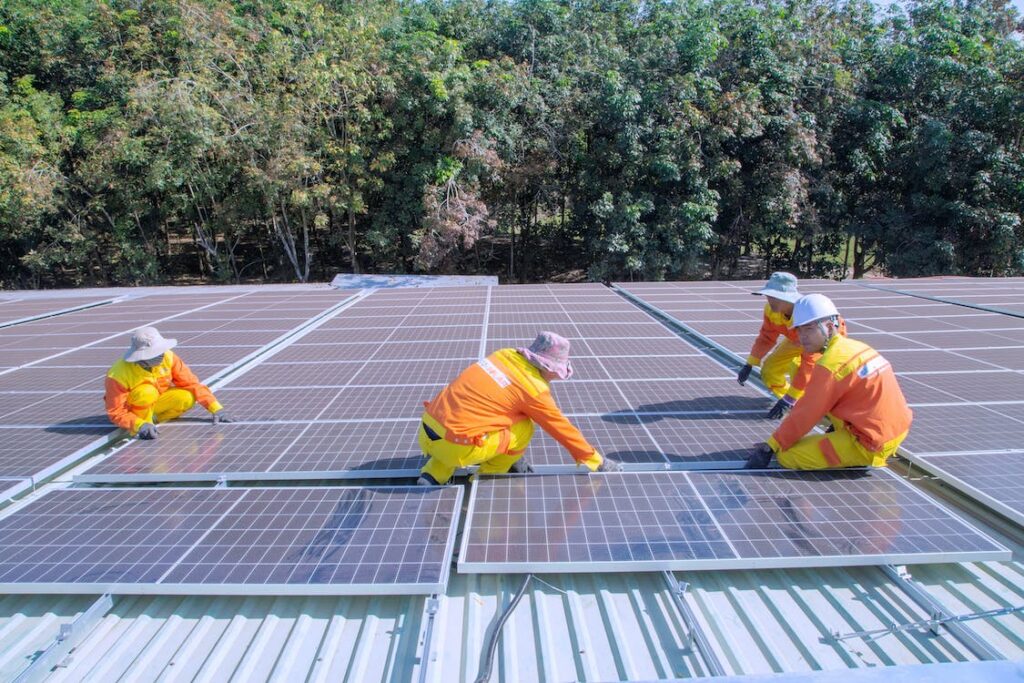 The landscape of employment in the United States is undergoing a remarkable transformation as the clean energy sector forges ahead. Recent data showcases an inspiring growth trajectory, with clean energy jobs outpacing the overall workforce by nearly 4% from 2021 to 2022. This upward trend is poised to continue, fueled by the fruition of projects catalyzed by significant clean energy legislation.
A Clean Energy Revolution Ignited by Legislation
A monumental shift towards clean energy is sweeping the nation, sparked by groundbreaking legislation. The journey began in 2021 with the passage of the $1.2 trillion Bipartisan Infrastructure Law, followed by the landmark Inflation Reduction Act (IRA) a year later. The legislative momentum continued with the $67 billion CHIPS and Science Act, a vital initiative to bolster semiconductor production. This collective legislation is not only positioning the United States as a technology powerhouse, but it's also propelling clean energy initiatives and much more. Notably, it's ushering in a surge of quality job opportunities across various sectors.
Department of Energy's Report Sheds Light on Growth
The 2023 U.S. Energy and Employment Report (USEER) unveiled by the Department of Energy (DOE) delivers impressive insights into the robust expansion of the energy workforce. With a growth rate nearly 4% higher than the overall U.S. workforce, the energy sector saw an addition of almost 300,000 jobs from 2021 to 2022. The star of the show was undoubtedly clean energy, which witnessed an increase from 7.8 million jobs in 2021 to a commendable 8.1 million jobs in 2022. Among the standout sectors was battery electric vehicles, which experienced staggering growth of nearly 30%, a remarkable 17 times faster than the expansion of gasoline and diesel vehicle jobs.
Solar Takes the Spotlight
Among the array of clean energy technologies, solar takes center stage, contributing to over 20,000 new jobs. This category accounted for more than 84% of net new electric power generation jobs, bringing a total of 21,664 positions. Both solar and wind showcased notable employment growth, with solar adding 12,256 workers, a nearly 4% increase. While wind boasted impressive growth rates, the number of workers added was slightly lower.
Advancing Demographics and Diversity
The landscape of the U.S. energy sector is evolving towards a more inclusive and diverse workforce. Initiatives like the program launched by the Solar Energy Industries Association (SEIA) to promote diversity in hiring have yielded positive results. The DOE report highlights a significant shift, with women constituting more than half of new energy job entrants in 2022. While progress is evident, there's still work to be done, as women comprise only 26% of the energy workforce compared to 47% in the broader U.S. workforce. Notably, the representation of women is strongest in the electric power generation sectors, where they make up 32% of the workforce.
The energy sector's racial composition also presents room for improvement. Non-white workers account for 24% of the energy workforce, slightly higher than the national average. However, the proportion of Black workers remains lower in the energy sector. Hispanic or Latino workers constitute 18% of the energy workforce, just below the national average of 19%, while Asian workers represent 7% in both energy and the national workforce. The representation of American Indian or Alaska Native workers is notably higher in the energy sector at 2%, double the average in the broader U.S. workforce.
A Vision of Growth by State
Clean energy's exponential growth is not confined to specific regions—it's flourishing across all fifty states. Particularly strong expansion occurred in solar-rich states like Texas, California, and Pennsylvania. Electric power generation experienced its most robust growth in Delaware (14%), followed by Idaho (12%), Washington DC (11%), and Montana (9.6%).
A Promising Path Forward
The prevailing data paints an encouraging picture, with energy employment consistently outpacing the broader economy, and clean energy jobs leading the energy sector's growth. This trajectory is set to continue as projects born from the Investing in America agenda come to fruition. As aptly noted by U.S. Secretary of Energy, Jennifer Granholm, this transformation is invigorating local economies and fostering healthier and more prosperous communities. With a steadfast commitment to achieving a carbon-free electrical grid by 2035 and a net zero economy by 2050, energy workers will play an instrumental role in shaping the destiny of every county and state across the nation.