The 2022 Mortgage Stimulus Program — Does it Really Exist, How Does it Work and Where Do You Get It?
As you can see in this image taken from a website we found recently, some claim the existence of a "Mortgage Stimulus Program" and sometimes "Covid Relief Programs for Homeowners". We thought it would be good for our readers to clear up what all this means and if any programs like that really do exist.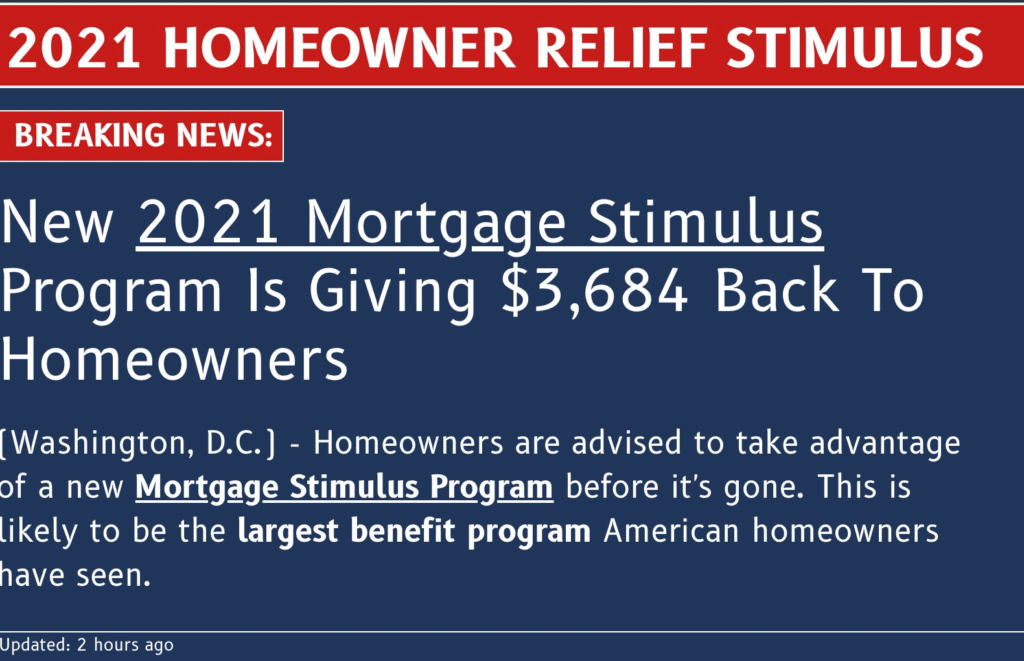 We could not find any programs that claim to give homeowners $3,684.00 so from what we could tell, that is a fabrication or arbitrary number based on an undisclosed unique situation. However, there are many programs out there where you can get relief. We found the best article we could on this subject, with the most information and resource-rich content we could find, and shared it below. Enjoy!
For more information on getting a grant and also learning about refinance programs, take a look at this.
The American Rescue Plan provides $350 billion in emergency aid to qualifying state, local, territorial, and tribal governments to help them respond to COVID-19 and restore jobs. So, U.S. households affected by the Covid-19 crisis can get financial assistance from a lot of government-sponsored and private relief programs. Below are financial aid programs currently available to U.S. homeowners, renters, and those who have recently become unemployed. 
Note: The response to COVID-19 is constantly evolving. Programs listed here may change, expire, or be extended. This list is current as of April 2022.
Important Deadlines for Mortgage Relief
Although the Covid 19 is almost over, people facing difficulties paying their mortgages can still get financial assistance. If you've had a temporary job loss or reduction in income, there are certain options available. The American Rescue Plan Act provides up to $9.961 billion for states, the District of Columbia, U.S. territories, Tribes or Tribal entities, and the Department of Hawaiian Home Lands to help the most vulnerable homeowners. The Treasury Department oversees the HAF program, which is managed by the states, territories, and tribes States like Florida, New York, Texas, California, Illinois, Virginia, Michigan, and more offer a different amount per household but the applicant's eligibility requirements are pretty much the same.
Fannie Mae and Freddie Mac servicers will be required to delay foreclosure actions for up to 60 days if the servicer has been told that a borrower has requested help from the Treasury Department's Homeowner Assistance Fund (HAF), according to the Federal Housing Finance Agency (FHFA). Fannie Mae and Freddie Mac have released Updated Lender Letter 2021-01 and Bulletin 2022-8, respectively, that implement the requirement for servicers to suspend foreclosure activities for up to 60 days if the servicer has been notified that a borrower has applied for assistance from the Treasury Department's Homeowner Assistance Fund (HAF). This action is the latest step taken by FHFA to assist homeowners who have been financially harmed by the COVID-19 outbreak. 
Millions of struggling mortgage borrowers with Federal Housing Administration (FHA), Veteran's Administration (VA), or the U.S. Department of Agriculture (USDA) loans can use the modification program which comes as an extension to the rest of the Covid-19 related housing relief programs.
Read on to learn more about how loan forbearance works and how to request mortgage relief if you're experiencing financial hardship.
How to Request Mortgage Relief
Mortgage relief is available for homeowners who request it. Start by contacting your loan servicer, or the company to which you make your monthly payments. Together, discover programs available to you. Do your research online about the programs offered in your state, their eligibility requirements, and the necessary documents. Keep in mind, that most of these programs will be closed when funds are exhausted, so submit your applications on time.
Note: Your mortgage servicer is likely not the same company that set up your loan. To find out who your servicer is, check the company name and contact information on your most recent mortgage statement.
Mortgage Refinancing
Refinancing your mortgage allows you to pay off your current loan and replace it with a new one with better conditions. You could wish to refinance your mortgage to take advantage of reduced interest rates, switch mortgage types, or for other reasons. Read more information about mortgage refinancing.
Reverse Mortgages
A reverse mortgage can help you convert a portion of your home's value into cash if you're at least 62 years old. You won't have to sell your house or add to your monthly expenses. You don't have to pay back the reverse mortgage as long as you reside in your house. The loan is only repaid when you sell your house or leave it permanently. Read more information about reverse mortgages.
Coronavirus Mortgage Relief Programs
The type of mortgage relief you may be qualified for is determined by the type of loan you have and which bank or agency owns it. Here are the relief programs currently available for the four major loan programs: conventional, FHA, VA, and USDA.
Mortgage Relief for Conventional Loans (Fannie Mae and Freddie Mac)
Fannie Mae and Freddie Mac were the first to announce assistance programs for people affected by the coronavirus. Homeowners don't usually realize their mortgages are owned by Fannie Mae and Freddie Mac, because they bought them after closing. Either agency could own your mortgage as they own the majority of U.S. home loans. But you can easily find out using the lookup tool that each of them provides:
If you and your lender agree on an aid package, you may be eligible for:
Mortgage forbearance (reduced or no payments) for up to 15 months;
Penalties and late fees waived on issues covered by your forbearance agreement;
No reporting to credit bureaus about late or 'missing' loan payments;
Loan modifications that could allow you the same or lower monthly payments when things return to normal.
Homeowners who qualify for mortgage relief under the CARES Act do not have to establish that they are in financial difficulty. That means there won't be a lot of paperwork. Homeowners must simply "claim" financial hardship by mailing in a hardship letter stating that they have been impacted by COVID-19. These programs could be really beneficial. Just keep in mind that forbearance has both advantages and disadvantages. Keep in mind that the money you don't pay now will have to be paid later! Always be clear about the timing and the repayment terms when the forbearance period ends.
Homeowners protected by the CARES Act, are never obliged to pay back missing payments in full when the forbearance period ends. Instead, they can normally choose to make greater payments until the missed sum is reimbursed, or 'defer' repayment until their loan is fully paid off, or until they refinance or sell the home.
Other options for struggling homeowners with conventional or conforming loans are also available. The Federal Housing Finance Agency (FHFA) introduced a "flex modification" program for borrowers with Fannie Mae and Freddie Mac owned loans, which offers borrowers a 20 percent reduction in their monthly principal and interest costs, as well as term extensions of up to 40 years.
For more information on getting a grant and also learning about refinance programs, take a look at this.
Mortgage Relief for Government-Backed Loans (FHA, VA, USDA)
Millions of struggling mortgage borrowers with Federal Housing Administration (FHA), Veteran's Administration (VA), or the U.S. Department of Agriculture (USDA) loans can use the modification program which comes as an extension to the rest of the Covid-19 related housing relief programs. And statistics show that in 2020, more than 18% of all mortgage origination were through the FHA and VA offices.
FHA borrowers exiting forbearance can get a 0% interest subordinate lien (also known as a solo partial claim) that allows them to defer repayment of the forbearance amount until they sell or refinance their home. The Covid-19 Recovery Modification option is available to FHA borrowers who are unable to make their current monthly mortgage payments. This new loan modification option decreases the principle and interest part of your monthly loan payment by up to 25% and extends the duration of your mortgage loan to 360 months (the current market interest rate will be applied to the new loan).
Under the VA's Covid-19 Refund Modification, VA borrowers who have been financially impacted by Covid have more alternatives for making their debts reasonable. Borrowers who qualify for a VA loan can save up to 20% on their principal and interest payments, as well as extend their loan to lower their monthly payments. The maximum repayment duration for an eligible VA loan is 480 months. The VA also offers the option to purchase outstanding forbearance amounts from partner lenders, with debtors repaying the loan at 0% interest when the property is sold or refinanced. Additionally, the VA can purchase some of the loan principal, up to 30% of the unpaid principal balance as of the first day the borrower started their forbearance plan.
For qualifying borrowers, the USDA Covid-19 Special Relief Measure will cut monthly mortgage principal and interest payments by up to 20%. Assistance is also available to cover past-due mortgage payments as well as any associated costs.
Private Mortgage Relief Programs
You may be eligible for mortgage relief even if your loan is not backed by the government. Many private mortgage lenders, large and small, have announced assistance for COVID-19-affected consumers. The American Bankers Association maintains a list of banks that have announced help for their customers over the pandemic.
Relief Programs for Renters – What To Do if You're Behind on Rent
Are you a renter or a landlord in need of rent or utility assistance? Find a Treasury Emergency Rental Assistance (ERA) program near you by using the database below. These programs include an unprecedented amount of funding for emergency rental assistance to help renters stay stably housed. 
Because funds are dispersed locally, tenants and landlords who want to be considered for relief can look into relief initiatives in their region. To begin, look through the National Low Income Housing Coalition's list of local housing programs to see what rental assistance programs are currently available in your state or county.
During COVID, renters have protections as well, though they are less comprehensive than the relief options available to homeowners. Previously, renters could not be evicted until March 31, 2021, if they are behind on payments due to COVID-relate.
The CA COVID-19 Rent Relief program provides financial assistance for rent and utilities to income-eligible California renters and their landlords who have been impacted by COVID-19. Both renters and landlords can apply for assistance. Read more information about the Rent Relief program in California. Rent assistance is also available in the State of Colorado. Read more information and how to apply here. Visit your state's official site and see if there is a program available.
To be eligible for rent relief, tenants must meet a number of requirements, including:
The household can't make more than 80% of their area's median income;
Renters must be experiencing financial hardship related to the pandemic;
The renter must be at risk of losing their housing.
State and Federal Unemployment Assistance
The federal-state unemployment insurance (UI) system helps many people who have lost their jobs by temporarily replacing part of their wages. Under the CARES Act responding to the COVID-19 pandemic, all states received access to federal funding to provide additional weeks of Pandemic Emergency Unemployment Assistance (PEUC) benefits to people who exhausted their regular state benefits, and Pandemic Unemployment Assistance (PUA) to many others who lost their jobs through no fault of their own but who were not normally eligible for UI in their state.
The two states providing more than the 26-week maximum are:
Massachusetts,(the maximum number of weeks is reduced to 26
Montana, which provides up to 28 weeks of UI.
The states providing fewer than the standard 26-week maximum include:
Arkansas, which provides up to 16 weeks of regular benefits;
Michigan, which increased the maximum number of weeks to 26 earlier in the COVID-19 emergency but cut back to 20 weeks for new applicants in 2021; and
South Carolina and Missouri, provide up to 20 weeks of UI.
Visit your state government's website to see what unemployment assistance is available where you are.
4th Stimulus Check: Is Your State Giving Out Money This Year?
A new batch of stimulus payments resulting from President Joe Biden's signing of the COVID rescue bill in mid-March — and this phase may offer you additional funds if you have received a relief payment in the previous round, according to the IRS. Even though all states have received at least $500 million through the American Rescue plan to help fund their own economic recovery closer, only the following ones are using them for a 4th stimulus check:
The Back to Work Program in Arizona is paying $2,000.00 to those who have found work after being unemployed. However, you must work for at least eight weeks at your new position before receiving the benefit. As part of the Golden State Stimulus I, Californians earning $75,000.00 or less received a one-time check of $600.00 or $1,200.00. They may also be eligible for a second stimulus payment ranging from $50.000 to $1,100.00 under the Golden State Stimulus II. That's on top of the money the state gave to families with children under the age of six through the Young Child Tax Credit. The State of Colorado provided $375 to folks who had gotten at least one unemployment check payment between March 15, 2020, and October 24, 2020.
The State of Maine is also giving out "disaster relief" payments in the amount of $285.00. The state of Missouri is giving out an extra $250.00 per paycheck to people working in a mental health facility, nursing home, or correctional facility to thank them for their work during the pandemic. New Mexico is providing low-income residents a one-time payment of $750. The State of New York administers the Excluded Workers Fund program and is giving out $3,200–15,600 one-time unemployment benefits to workers who lost employment or income during the COVID-19 pandemic but didn't qualify for aid like unemployment benefits or stimulus payments. The Vermont Frontline Employees Hazard Pay Grant Program gave checks of $1,200.00–2,000.00 to frontline workers who served during the beginning months of the pandemic.
For more information on getting a grant and also learning about refinance programs, take a look at this.
Mortgage Modification Scams
The Consumer Financial Protection Bureau has already had to issue a warning to Americans about mortgage modification fraud.
Scammers may:
Ask you to pay fees upfront to receive services;
Promise to get you a loan modification;
Ask you to sign over the title to your property;
Ask you to sign papers that you do not understand;
Say you should start making payments to someone other than your servicer or lender;
Tell you to stop making mortgage loan payments altogether.
If anyone has made any of these requests or claims, you can report that company by submitting a complaint with the CFPB online or by calling (855) 411-CFPB (2372).
The Federal Trade Commission also cautions us of this.: "The government will not call to ask for your Social Security number, bank account, or credit card number. Anyone who does is a scammer."
Trustworthy Resources for COVID-19 Information
A portal to several sources of information on COVID-19 can be found on the federal government's website. It is preferable to rely on them over social media or even certain media sites. These resources include, among other things: